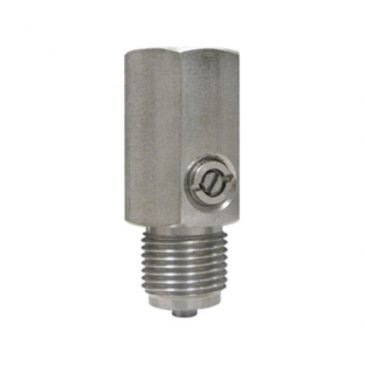 Damper for Pressure Gauges A201
Bamo Measures Sas has been founded in 1978. Its capital is now 400 000 Euros. Since the beginning, the company has undergone a rapid development centring on industrial pH-meters and conductivity meters. Bamo is now well-known as a leader on the French market.
Since 1990, new developments in the Level Measure have given a new spring in the export. To its own production range, the company holds numerous agencies of foreign companies in Europe and all over the world. So we are offering a complete line with always the best possible service.
Bamo is a company that comes from France. This company selling some product. The product of Bamo such as pH and ORP; Chlorine, disinfection; Data processors; Conductivity; Water hardness; Turbidity; Oxygen; Level; Temperature; Flow; Pressure; Plastic valves; Metal valves.
Damper for Pressure Gauges A201
A damper A201 protects the pressure measuring instrument against undesirable effects of pulsating regime. It includes an adjustable needle which narrows the pressure channel, to adjust according the operating conditions. Well adjusted on site, it considerably increases the service life of pressure gauges in conditions of use where the pressure varies abruptly such as on compressors, pumps, while preserving precision.
Note: In the case of mechanical vibrations, the use of a pressure gauge oil filled is required.
Features
Adjustable damper for liquids, gases and steam
Operating pressure: Max. 400 bar
Temperature: Max. 180 °C
Application
Protection of pressure gauges against sudden variations in pressure (pressure peaks, pressure surges, pulsating regime, etc.).
Specification
| | |
| --- | --- |
| Model | Adjustable |
| Body | 316 stainless steel |
| Gaskets and seals | FPM |
| Operating temperature | Max. 180 ° C |
| Operating pressure | Max. 400 bar |
| Instrument connection | ½'' BSP - F |
| Process connection | ½'' BSP - M |
Download Data Sheet: Damper for Pressure Gauges A201
Ref: bamo.eu