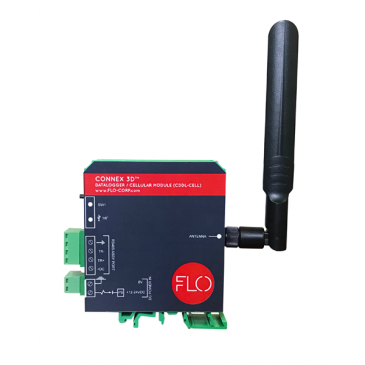 Cellular Module (CELL) CONNEX COMPATIBLE
The Cellular Module equips your CONNEX 3D™ Flexible Process Meter with the ability to remotely monitor the application wirelessly through cellular data transmission to a cloud-based server. The server can be displayed on any PC, smartphone, tablet, or any device with a web browser. The cellular module includes a built-in data logger with up to 32,000 samples of data stored for field retrieval and/or cellular transmission in one upload. The network capabilities feature compatibility with cellular networks, point-to-point networks, and wired networks. The cost-saving hardware and software design provide process control and monitoring, data gathering, data reporting, alarm alerting via SMS and email, alarm historian, and more.
Features and benefits
RS485 Field Connectivity
3G Frequency Bands with low power draw
CDMA or GSM, LTE, Class 3
FCC Part 15 Class B Compliant
ATT and Verizon certified
Simplify I/O management with innovative software
Single or Multi-channel flow or level or any process monitoring
Network compatible with a cellular, point-to-point, and wired network
Cloud-based server for unlimited monitoring
5-year warranty
Specification
CELLULAR MODULE
CARRIER
ATT, T-Mobile
Verizon, Sprint
PERFORMANCE
HSPA
EV-DO rev A

FREQUENCY BANDS

3G: 850/900/1700

2G: 850/900/1800/1900

800/1900

TCP/IP
FTP, SMTP, TCP, UDP

POWER DRAW

5VDC, 19mA sleep, 28mA idle, 397mA max.
5VDC; 22mA sleep, 34mA idle, 423mA max.
INPUT POWER
3.3V - 5VDC
3.3V - 5 VDC
OPERATING TEMPERATURE
-35º to 185ºF
-40º to 185ºF
STORAGE TEMPERATURE
-40º to 185ºF
-40º to 185ºF
HUMIDITY
20% to 90% RH, non - Condensing

EMC COMPLIANCE

FCC Part 15 Class B, EN55022, EN55024

FCC Part 15 Class B

RADIO COMPLIANCE

FCC PArt 22, FCC Part 24,

RSS 132, RSS 133, EN 301 511,

EN 301, 489-1, EN 301 489-7,

EN 301 489-24

FCC Part 22, FCC Part 24

NETWORK

PTCRB

N/A

DATA LOGGER SPECIFICATIONS
INPUT VOLTAGE
12-28 VDC
INPUT POWER
85mW min, 2W max (during Cell Xmit)
INPUT CURRENT
7mA min, 130mA max @ 12Vdc input
INPUT PROTECTION
Reverse diode protected, auto resettable fuse
CLOCK
24 Hour Format, battery-backed
FLASH MEMORY FOR DATA STORAGE

4 MB, 26K data records

SENSOR COMMUNICATIONS

I/F

RS-485 Modbus RTU @ 9600 Baud

PC APP I/F
Logic Level Serial @ 9600 Baud
SWITCHED DC POWER FOR SENSOR

Vin at 200mA max

OPERATING MODES

Standalone Data Logger, 2G or 3G Cell Modem for FTP Upload to server
Specifications are subject to change without notice.
Download Datasheet: Cellular Module (CELL) CONNEX COMPATIBLE, Flocorp-Monitor
Ref: Flo-corp.com