Gasketed plate heat exchanger Barriquand one of cooling component system and one of machinery part. Compact and evolutionary, Barriquand plates and gaskets heat exchangers offer excellent thermal performances for all your fluid heating / cooling applications in chemical / pharmaceutical, agriculture / food, climate engineering, diverse industries.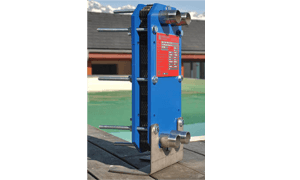 Gasketed Plate Heat Exchanger
GASKETED PLATE HEAT EXCHANGER ADVANTAGES
Evolutionary countercurrent heat exchangers
Minimal pressure drop, high turbulence, very high heat transfer coefficient
Easily openable and cleanable on both circuits
Joints are clipped or glued according to model
Options: double-walled plates, wide gap plates…
Easy to install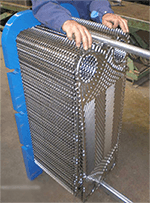 Gasketed Plate Heat Exchanger Construction
THE OPERATION OF PLATE HEAT EXCHANGER (PHE)
Plates and gaskets heat exchangers are made up of a series of corrugated plates that follow profiles which form, after assembly, the circulation channels for the fluids. Thanks to their shape, the gaskets insure the peripheral sealing of each plate and authorize or prohibit the fluid flow between the plates.
Plates and gaskets heat exchangers are used for different processes: heating / cooling of evaporation fluids, condensation….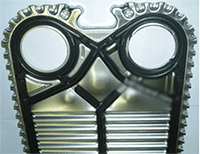 Gasketed Plate Heat Exchanger
Standard plate heat exchangers; technical characteristics and models
An extensive range
Up to 45 plate sizes with 3 different angles (including wide gap plates)
Single-stream exchangers in most cases
Best technical solution
Flange diameters from 32 mm to 500 mm (1"1/4 to 20")
Design pressure up to 25 bar (362 psi)
Lateral flow distribution
Automatic centering between plates
Clipped or bonded gaskets (or fixed with gasket glue)
Deeper gasket grooves
Flush-fitting gaskets
Highly resistant gaskets
«FREE FLOW» WIDE GAP PLATES HEAT EXCHANGERS
Suitable for loaded fluids, the wide gap guarantee a constant fluid flow space between the plates. Chemically cleanable, they offer high thermal performances.
Application example: heating / cooling of juice, sauces, mustards; pasteurisation of viscous creams, heat recovery from waste-water, treatment of sewage sludge…
9 plate sizes
Average groove depths from 5 to 11,5 mm
Flange diameters from 32 mm to 300 mm (1"1/4 to 12")
Possibility of special connections
Differential pressure up to 6 bars
DOUBLE-WALLED PLATES HEAT EXCHANGERS
For sanitary applications, in fine chemistry and the pharmaceutical industry, we offer double-walled plates that allow us to avoid all risk of fluids mixing or cross-contamination in case of an eventual cracks or plate corrosion.
This technology guarantees that any eventual leak will be drained towards the outside of the heat exchanger.
Plates designed to prohibit all contamination between the 2 fluids
Over 20 plate sizes
Flange diameters from 32 mm to 300 mm (1"1/4 to 12")
MATERIALS OF CONSTRUCTION
Plates: AISI 304, 316, Titanium, Hastelloy®, etc.
Gaskets: Nitrile, EPDM, Viton, etc.
Frames: Carbon steel with epoxy paint – stainless steel (for industrial and food processing uses)
Read more : Barriquand and ASET marine heat exchanger