USR Flow Meter
The flowmeters model USR for liquids operates on the variable area flowmeters principle, which means that the installation position is vertical and the direction of flow is from bottom to top. The instruments have been designed as simple and thus economical measuring systems. The float for USR is a bomb form float, whereby the indication point is the top of the float.
The appliance is available with a valve. For centralized flow measurement, for example in cooling systems, we recommend the manifold flowmeters for multiple installations. Up to 24 flowmeters can be assembled in a block provided that the maximum flow rate in each unit does not exceed 10 l/min. The ranges and outlet connections of each unit in such a block can be determined separately.
Features
Applications
Specifications
Technical Details
Installation position:
inlet: horizontal
outlet: vertical from bottom to top
Flow direction: from left to right or right to left
Accuracy class: Class 2.5 acc. to VDI/VDE 3513
Max. pressure: 16 bar
Process temperature: 0...+100°C
Ambient temperature:0...+60°C
Protective category: IP65
Connections:
inlet: G 1 or (1" NPT with adapter)
outlet: G 3⁄8, ¼" NPT, 3⁄8" NPT (female)
hose connection: Ø10, Ø13, Ø15 mm
BVB
[caption id="attachment_46227" align="aligncenter" width="175"]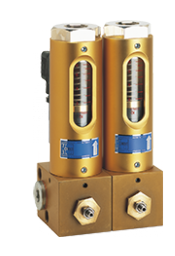 BVB for lubricating oil circuits[/caption]
For centralized flow measurement and switching, for example, with lubricating oil circuits we recommend the KOBOLD manifold valves for multiple installation. Up to eight flow meters can be assembled in a group providing that the maximum flow rate in any one group does not exceed 24 L/min.
Features
Applications
Specifications
Technical Details
Housing: aluminium, anodized
Process connection: G½ female (BVB)
(Please specify for model VKG/VKM)
Max. flow rate: 24 l/min per group
Seal: NBR
Max. temperature: 100°C
Max. pressure: PN 64
(Please observe any limitations of the flow meter)
Kv-value: 0.5 bar at 9.5 l/min water
1 bar at 14 l/min water
2 bar at 20 l/min water
Reference : kobold.com