Bauer Gear Motor, BF Series Submersible Shaft Mounted Geared Motors is one of the equipment components used in industry such as machinery, material handling, packaging, pharmaceutical machinery, textile machinery and and can also be applied to marine industry, shipping industry, offshore and onshore and oil gas, this tool is usually used in the mechanical part of an engine room.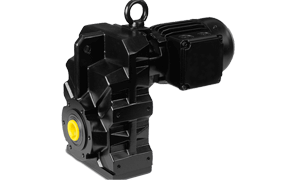 BF Series Submersible Shaft Mounted Geared Motor
Our reliable BF Series Submersible Shaft Mounted Geared Motor sets new standards for reliability, efficiency and economy and includes unparalleled standard features including hollow shafts in the smallest sizes. Our IP68 design geared motors are derived from the standard B2000 range and are most suitable where it is required to convey or transport foul, waste, river or rain water, and all types of sludge-containing waters in communal or industrial areas. They are frequently used in agitators for mixing, homogenising, etc. or in extremely wet areas or completely submersed under water.
Features
Torque : 90 ... 18.500 Nm
Output Speeds 0,2 ... 190 min-1 versatile installation possibilities
Power rating 0,12 ... 45 kW (Standard)
0,37 ... 11 kW (in Ex design on request)
Special sealing concepts for maximum leakage protection
Reinforced bearings for higher strength and longer service life
Shafts available on request in V4A steel or coating
Motor Connection
Standard with cast terminal box
Optional with special plug connection
Additional features :
Special design for continuous submersible operation
Electronic leakage detection available on request
Brakes available in IP68 design
Water depths of 5m (deeper on request)
Corrosion category Im2 based on DIN ISO 12944-5
Hollow shafts available through the whole product range in even the smallest sizes for easy cost effective application.
Read more : Bauer Gear Motor BG Series Small Industrial Helical Geared Motor