[caption id="attachment_54981" align="aligncenter" width="365"]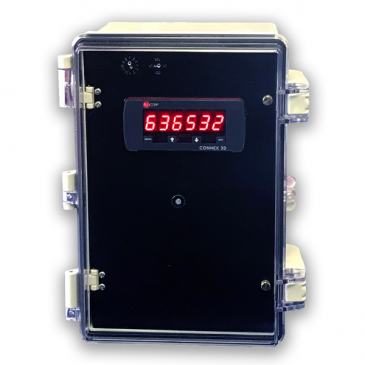 CONNEX 3D™ CD3D Flexible Process Meter
The CONNEX 3D™ is a revolutionary concept in the process meter market. Featuring snap-in performance-enhancing modules, such as cellular connectivity, analog inputs, or relays, the CONNEX 3D™ Flexible Process Meter truly provides the unique ability to customize the unit to your exact needs. Think of the modules like Legos®, pick and choose from a wide variety of options that plug into your CONNEX 3D™ to create a unique system to fit your exact needs. Modules can be added at any time, so if you purchase a base model, you have the option to add additional features/modules at a later date. The performance modules include: Integral or Remote Display, Analog Inputs, AC input, TCP/IP Ethernet, USB data logger, Relay and Pump Control, Radio, and Cellular Connectivity, and Cloud Portal.
The CONNEX 3D™ is the industry's first process meter that connects standard analog inputs which can be displayed and transmitted via RS-485 Modbus serial remote I/O with TCP/IP Ethernet, Auxiliary Relays, and standard isolated analog output. The CONNEX 3D™ provides the user flexibility to configure any analog input into a stand-alone or distributed monitoring and control system.
The CONNEX 3D™ has the added dimension of wired or wireless monitoring with or without local or remote field display for added versatility. All configurations of the monitoring system are provided with either PC software or cloud-based web portal for monitoring, data gathering, data reporting, alarm alerting via SMS and email, alarm historian for post-mortem analysis. FLO-CORP's cost-saving hardware and software design provide process control and factory automation solutions so you can seamlessly switch from other analog or RS-485 transmitting devices to the new CONNEX 3D™ monitoring and control solution.
Features and benefits
Customizable performance modules, can add more modules at a later date
RS-485 Field or Panel display interface, providing field and plant operations vital process information data
Provides local and/or remote monitoring
Simplify I/O management with innovative software
Wide operating temperature range (-40 to 167ºF)
Monitor any number of analog inputs
Supports Ethernet TCP/IP Network Connectivity
Flow totalize and grand totalize with remote reset
Ships from factory pre-configured for customer's application to ensure easy installation and setup
5 Year Warranty
Download Datasheet: CONNEX 3D™ CD3D Flexible Process Meter, Flocorp-Monitor
Ref: Flo-corp.com