Bauer Gear Motor, Helical Geared Motor Series BG is one of the equipment components used in the industry such as food and baverage industry, marine industry, offshore and oil gas, this tool is usually used in the mechanical part of an engine room.
Three phase helical geared motors for driving machines and equipment of all types.
Bauer Gear Motor supplies modern drive solutions for all industry sectors in which material must be moved. The customer benefit lies in the robustness and durability of our products. The simple and cost effective installation, the minor service necessity and the high efficiency reduce the costs throughout the whole life of the drive. The Bauer-Service is at your disposal world-wide.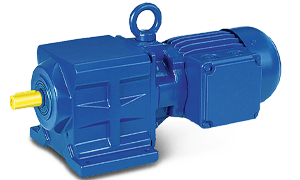 Bauer Gear Motor, IE3 Premium Efficiency Geared Motors
Bauer geared motors make drive solutions possible in the power range 0.03 to 75 kW.
Proximity to the customer, both geographically and psychologically, is an important pre-condition for good cooperation. Our highly qualified advisors, technicians and fitters are working for you round the world. They speak your language – even in the transmitted sense.
Standards
• CE-Mark
• INMETRO
• UL
• CCC
• CSA
• ATEX
• EAC
• ISO9001
• ISO14001
• OHSAS18001
Gearbox
• Torque 20 Nm ... 18,500 Nm
• Ratios
two-stage : 2.46 - 73.13
three-stage : 12.45 - 305.80
• Versatile installation possibilities
• Completely enclosed, sealed against dust and water spray
• Lubrication change first
- with mineral oil after 15.000 hrs
- with synthetic oil after 25.000 hrs
• Low noise gearing
Motors
• Power 0.03 kW ... 75 kW
• Mains 110 V ... 690 V, 50/60 Hz
• Enclosure IP 65 (Standard), IP 66 (Optional)
• Connection Standard with
CAGE CLAMP®
Options
• Connecting with plug connectors
• With integrated inverter up to 7.5 kW
• IE3 up to 75 kW with ASM
• IE4 up to 11 kW with PMSM
Brakes
• Enclosure IP 65 (Standard)
• Performance and application
optimised brake range
• Maintainance friendly design
General
• Corrosion protection
CORO1, CORO2, CORO
Read more : Bauer Gear Motor, IE3 Premium Efficiency Geared Motors