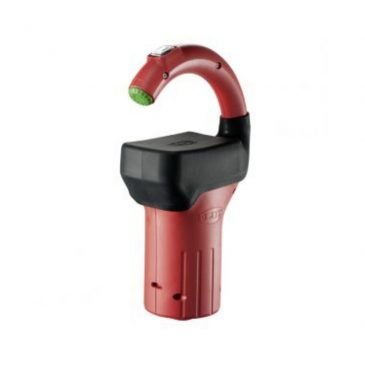 Motor FBM-B 3100
The FLUX name has been synonymous with pump technology for more than 70 years. It was the invention of the electric drum pump that sparked it all off. In the meantime, of course, the technology has become more sophisticated. FLUX company innovations have markedly improved working routines for filling and transferring fluids. It is often said that medium-sized companies are the engines of progress.
FLUX is an invention. In the year 1950 the first electric drum pump was introduced. It was named FLUX. Out of this core the FLUX-GERÄTE GMBH was established. The medium-sized company based in Maulbronn develops and sells innovative solutions in the field of pump technology.
Motor FBM-B 3100
For driving the FLUX pump a wide range of electrical to pneumatic motors is available. Even if you work in hazardous areas or with flammable liquids. Depending on the application, different pumps can be driven by different motors. Thus, the output of a drum pump depends, among other things, on the power of the motor. Here you will find the most economical and safest drive solution for your application.
The brushless battery motor works without carbon brushes and is thus a maintenance-free drive. Along with other characteristics such as independence of mains or changeable battery there is a clear plus in flexibility and economy for the user.
The motor FBM-B 3100 can be used immediately and flexibly - without installing cables, independent of power supply - also outdoors. The motor is maintenance-free and has a long battery runtime of up to 120 min. The Li-ion replaceable battery is recharged within 30 min. A 200 l drum can be emptied in only 3 minutes (at 15000 rpm). Ten 200 litre drums can be emptied with one battery charge (at 5000 rpm). It also has an infinitely speed adjustment. Different pumps can be driven by the same motor.
Advantages
No mains connection required
Can be used immediately and flexibly
Long battery runtime up to 120 min
Battery is recharged within 30 min
Li-ion replaceable battery
Maintenance-free
Awarded with the iF Award - Red dot design award
Specification
Protection class: IP 44
Ventilation: Internal
Tension (Volt): 110-120 V, 220-240 V
Frequency: 50-60 Hz
Performance (watt): 100 W
Speed adjustment: Infinitely
Weight: 1,2 kg
Download Data Sheet: Motor FBM-B 3100 - Brushless Battery motors
Ref: flux-pumps.com