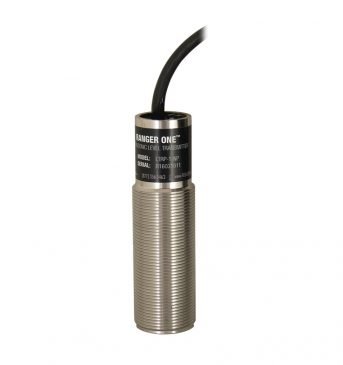 Ranger One™ LTRP-1 Ultrasonic Level Transmitter (up to 14ft)
The Ranger One™ ultrasonic level transmitter has a maximum range of 14 feet (4.3 meters). Like all Ranger sensors,
it's built for durability and ease of use in tough industrial environments. The Ranger One™ is unique in the Ranger
family of products because it can be applied to any liquid tank level application and much more.
The Ranger One™ is an ideal solution for position or distance measurement in factory automation like web control or heavy equipment monitoring, as well as solids, level remote monitoring on anything from corn flakes to sawdust. It's fully submersible, corrosion-resistant, shock resistant ultrasonic sensors are housed in 316 stainless steel and all-around tough.
The Ranger One™ sensors contain a rugged transducer potted in a stainless steel housing for long life. Outputs respond to measured distance and non-contact technology means nothing touches your materials. It's also fully configurable with our software.
Ranger One includes our famous "Teach" feature for push-button configuration. You can quickly adjust, optimize, save, and clone your applications without calibration. The Ranger One™ has a Multi-Sensor network capabilities using Smart Communications via Modbus protocol, RS-485. The Ranger One™ would typically replace conventional ultrasonic level sensors PLUS proximity sensors and proximity switches.
Features and benefits
Long-range, short dead band
Unaffected by optical factors like color and transparency
PC or button "teachable" setup
Narrow beam adjustments to optimize performance
Temperature-compensated
Quick mounting
1.18 inch (30 millimeters) type 316 stainless steel housing
Sealed epoxy potting for wet and dirty applications
A ruggedized piezoelectric ultrasonic transducer, potted in place
Specifications
Maximum Range
14 feet (4.3 meters)
Update Rate
20 Hz (50 ms), Software adjustable; also affected by Software filter selections

Optimum Range

4 inches - 10 feet (102 millimeters - 3

meters)

Output Selection

Voltage Voltage & 4-20 mA current loop

(defaults), switches, or a combination

Process Connection
30 x 1.5mm Thread

Voltage Output

0-10, 0-5 VDC or PC customized, 10 mA max; also push-button teachable endpoints

Accuracy

Better than 0.5% of target distance in stable, homogeneous air environment; affected by temperature gradients, target echo strength, speed of sound in vapors.

Current Loop

4-20 mA or PC customized, current sourcing, max. loop 450!, teachable endpoints

Power Input

10 - 30 VDC @ 60 mA maximum; typical

45 mA @ 24 VDC

Sinking Switch
150 mA max. @ 40 VDC max., teachable set point & polarity, fault indication
Temperature
-40° to 158° F (-40° to 70° C)
Sourcing Switch
150 mA max. @ input voltage, teachable set point & polarity, fault indication
Humidity
0 to 100% operating
RS-232, RS-485

Modbus protocol, 9600 to 115200 baud,

8 data bits, 1 stop, no parity

Compensation
Temperature Compensation
Adjustment
Button "teach" or software
SYNC Feature

Permits up to 32 sensors to operate in

close proximity without interaction

Configuration
Stored in non-volatile memory
Outputs
Two selectable, plus serial data
Target Requirements

Current / Volt Output or Switched Outputs

Out puts on the black and white wires are software selected. The black wire options are 4-20mA current loop or switch. White wire options are 0-10 VDC or switch. Switches can be sourcing or sinking. Max current loop resistance is derated below 15 VDC input voltage.
Objects
Detects flat or curved objects. Surface must reflect ultrasound to sensor

Max. Distance

Affected by size, shape, orientation of target (sound level reflected back to sensor), environment. Restrict use to Optimum Range when using over a wide range of environmental conditions
Protection
NEMA-4X, NEMA-6P, IP68
Orientation

Flat surfaces should be oriented

perpendicular to sensor output beam

Transducer
Ruggedized piezoelectric

Optical

Unaffected by target color, light, transparency or other optical characteristics

Resolution

Digital: 0.0034 inches (0.086 millimeters); Analog:4099 steps (0-10 VDC), 3279 steps (4-20 mA)
Specifications are subject to change without notice.

Repeatability

Greater of +/-0.03 in. (0.76 mm) or Nominal 0.2% of range @ constant temp. Affected by target, distance, environment
Download Datasheet: Ranger One™ LTRP-1 Ultrasonic Level Transmitter (up to 14ft), FLocorp-Level Transmitter
Ref: Flo-corp.com