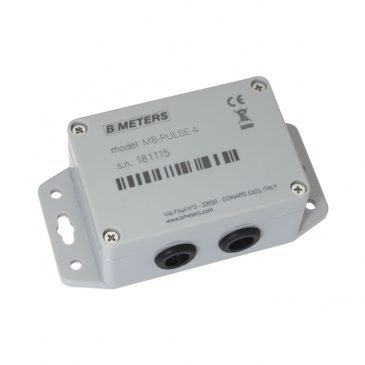 MB-PULSE 4 Pulse to Wired M-Bus signal converting module
B METERS is an Italian company that has been designing, producing and distributing instruments and solutions for measuring the consumption of water and energy used for heating and cooling, for over 25 years.
The yearly production currently exceeds 1,800,000 units putting B METERS in a leading position both at national and European level.
B METERS srl operates both nationally and internationally supplying the water companies, the industry and the private market.
The product range includes turbine (velocity) type single and multi-jet water meters with mechanical or magnetic transmission, Woltmann meters, irrigation meters, flow meters, thermal energy meters and heat cost allocators with direct reading or complete with integrated modules for the remote transmission of the consumption data.
The MB-PULSE 4 module allows to convert the classic impulse signal (REED or OC) to the Wired M-BUS standard (EN13757-3). It is possible to connect up to four pulse meters (water, gas, electricity, heat etc), any caliber, any manufacturer and any version.
Each record is distinguished by four separate addresses, allowing easy reading of the consumptions.
Easy installation and configuration. It is possible to configure the primary addresses by using the B METERS software BMBUS and master mod.MB-MASTER.
Technical Features
| | |
| --- | --- |
| DIMENSIONS | 89 x 74 x 40 mm |
| WEIGHT | 122 g |
| TEMPERATURE RANGE | +1° / +55°C |
| POWER SUPPLY | From BUS Network, 3 V Lithium Battery (backup) |
| BATTERY LIFE | 1 year (if disconnected from BUS network) |
| PROTECTION CLASS | IP65 |
| TRANSMISSION PROTOCOL | MBUS Standard EN 13757-3 |
| MEASUREMENT SENSIBILITY | 1 – 10 – 100 – 1000 |
| MEASUREMENT UNITS AVAILABLE | L – Wh - KJ |
| TRANSMITTED DATA | Consumption Device Status |
| INPUTS | N°4 pulse inputs. Connectable to pulse emitters (REED and Open Collector) |
| MAXIMUM INPUT FREQUENCY | 20 Hz |
| OUTPUT | N°1 Wired MBUS output |
Reference: bmeters.com